C3P Software Released Cast-Designer V7.2
Posted by admin on Jun 28, 2017 in C3P News
【Hongkong – 28th June, 2017】– C3P Software, a pioneer supplier of CAX & PLM solution for industrial manufacturing processes, announces today to release Cast-Designer V7.2. The new innovation solution helps industrial to optimize the cost and quality of casting product and process.
Cast-Designer V7.2 is a major release version following Cast-Designer V7.0. Cast-Designer V7.2 continue aims to further streamline casting engineer's design and simulation workflows by enabling them to make fast plans and simulations, and make engineering decision quickly and effectively.
SavingCAST
SavingCAST has been introduced to Cast-Designer solution. SavingCAST is used for determination of the optimum structure of metal charge components for melting foundry alloys, including multi-component, cast irons, steels, aluminum, copper and other alloys of the set chemical composition. The software also takes into account waste or increase of elements in the process of fusion. The build-in optimizer can help find the best balance of the cost and chemical composition accuracy to save material cost.
Gating System Design
Now, all the casting system design functions have been summarized to one unique window interface. The unique interface services to all casting process and all casting components. More ever, the shot sleeve design is also redesigned and included in the design wizard; the vacuum valve setting could be analyzed during the shot sleeve design also.
The free design function of gating system has been continuing improved and much powerful than before. The 3D gating system becomes very powerful and easy to use. Some innovation technologies of gating system make the system very flexible and powerful, like reverse engineering of existed gating, 3D slider and core projection for complex 3D runners.
Dual solvers and full couple:
Cast-Designer is the sole commercial software in the market to use dual solvers, the FVM solver and FEM solver with full couple. The advance CFD solver in FVM technology could be used for complex flow/thermal simulation and the FEM solver could be used for flow/thermal/stress/microstructure simulation.
The CFD solver can handle complex free surface problem, like surface tension, non-continue flow field, gas back pressure etc. In V7.2, Piston moving and solid transformation simulation, gate color and front track with high effective, vacuum system and back pressure simulation are included in the new generation CFD solver also.
Automatic Optimization:
Cast-Designer V7.2 with fully integrated capabilities for virtual design of experiments and automatic optimization, it could be applied to all casting processes. Thanks to the innovation technology of Cast-Designer, such optimization could be applied to any parameters, from the geometry parameters, material parameters, boundary condition parameters to the simulation control parameters, this is unique.
Cast-Designer optimizer is the software for multi-criteria nonlinear optimization in the last EA MOO technology. In Cast-Designer V7.2, any feature numbers could be assigned as keywords and driven by the optimization solver. The model definition becomes very simple, any user who can use Cast-Designer standard who can use the optimization also. Now, the training of optimization module could be reduced to one day only.
More ever, Cast-Designer V7.2 can support parallel automatic optimization. This is a breakthrough technology which can speed up 5 to 10 times of the lead time of the optimization and no any special setup of the parallel model but only one switch button
Professor J. Zhang, Science Director of C3P Software, stated: "We have once again unveiled a new release which is testimony of our latest development endeavors. In line with the motto of this latest release, our users are invited to join us at more than ten roll-out events all over the world during which they will expand their knowledge and learn how to benefit most from Cast-Designer V7.2. This new software release enables our users to take further advantage of our continuous efforts to streamline and accelerate the entire engineering process of casting design and manufacturing process."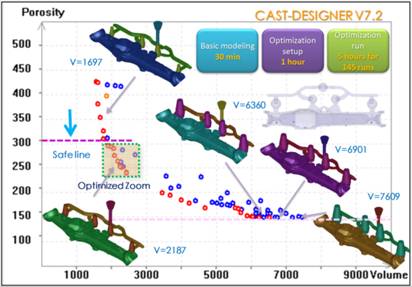 Cast-Designer optimization for the shrinkage porosity analysis and riser design
About C3P Software
C3P Software has been providing the professional design & analysis solution for the manufacturing industry since 2006, and the current product "Cast-Designer", "Cast-Designer Weld" " Geo-Designer", " AI-FORM", " SavingCAST" are marketed worldwide. With the combination of software development, advanced analysis, extensive product development experience, and cost-effective human resources, C3P Software provides industry and manufacturing business with comprehensive solutions and engineering services on a global basis to meet their expectation in high quality, on-schedule delivery within cost target. Our business scope covers software development, professional engineering service, and application software integration. For further information, please visit: http://www.c3p-group.com or http://www.cast-designer.com